As British Columbian's enter the upcoming provincial election, all of us in the forest industry remain dedicated to moving our sector forward and further contributing to the growth and prosperity of our province [...]
The Truck Loggers Association represents independent timber harvesting contractors from across the province. We are very pleased to hear that your organizations will resume bargaining after four months of silence since the strike began on July 1, which has had a significant impact on the coastal forest industry, its entire supply chain, and communities.
It's outrageous to demand an end to old-growth logging without acknowledging the impact to people and communities. For decades — even more so over the past year — there have been many catastrophic [...]
Re: Response to January 3, 2019 article: "Sierra Club calls for increased protection of B.C. forests as Brazilian president raises spectre of Amazon deforestation" Once again, old-growth logging has been inaccurately held up as [...]
Response to December 13, 2018 Editorial "B.C. Coastal forests and industry are at a tipping point" Once again, old-growth logging and log exports have been inaccurately held up as the catalyst for unacceptable [...]
Misconception about plea for protected provincial rainforests requires correction The June 29 article, If an old-growth tree falls in a forest, does it make political hay?, reports on a letter from 223 scientists stating, [...]
Misconception about plea for protected provincial rainforests requires correction In the June 28 article, 223 international scientists urge B.C. to protect provincial rainforests, the scientists warn that our rainforests are at risk of disappearing [...]
In July 2019, government announced a new "Old Growth Strategic Review," which involves a two-person panel travelling across the province to engage with First Nations, industry, stakeholders and communities to hear perspectives on the ecological, economic, social and cultural importance of old-growth forests.
A Contractor's Perspective on the Growing Coastal Forest Industry By Monty Hussey As Rick Jeffery notes in "Coastal forest industry on the rise after decade of struggle," published in the Times Colonist on [...]
TLA RELEASES REPORT ON THE HEALTH OF THE COASTAL HARVESTING SECTOR Forestry and Logging Positioned to Lead in Job Growth Tired Iron: The State of the Harvesting Sector on the BC Coast by [...]
The coastal forest industry needs to attract and train 4,700 men and women from BC's coastal communities by 2022 in order to meet anticipated demand. But there's something standing in our way.  These jobs [...]
The British Columbia Coastal Forest Industry Human Resource Strategy was released in early June 2014. Accessible, consistent, quality training is needed for all forestry and logging jobs to ensure the development and maintenance of a [...]
POSITION STATEMENT The Supreme Court of Canada's Decision in Tsilhqot'in v. British Columbia The TLA recognizes the importance of the Tsilhqot'in Decision and will continue to build mutually beneficial relationships with First Nations to [...]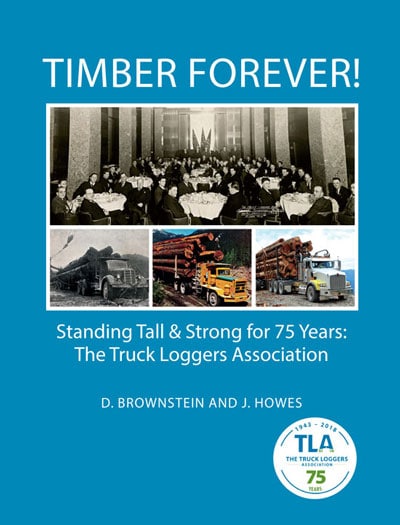 Timber Forever! is a commemorative book that looks back over the TLA's long and storied history using the TLA's 40 presidents as the framework. As part of the TLA's 75th anniversary celebrations, every TLA member company will receive one free copy of Timber Forever!