 Safety is of the utmost importance to members of the Truck Loggers Association. Learn more about how we strive to ensure safe logging practices are carried out across the province.
COVID-19 INFORMATION AND RESOURCES
.
We hope that everyone is staying healthy during the COVID-19 virus outbreak and are taking all necessary precautions to keep yourself, your families and employees healthy as well. 

Below are resources and information to assist you and your employees with staying healthy and informed: 
Department of Finance Canada

for

Canadians facing hardship as a result of the COVID-19 outbreak, includes individuals and businesses.

Small Business BC provides government supports for small business, links to current information and relevant articles on COVID-19 considerations for business. SBBC advisors are ready to answer entrepreneurs' questions about implementing or updating business continuity plans, accessing the Talk to an Expert program, or finding online training to help them take the next step. They can be reached at1-800-667-2272 or askus@smallbusinessbc.ca

The Small Business Branch has prepared joint information on Business Continuity & COVID-19 Small Business Resources, which provides a checklist of considerations that small businesses can use to help minimize the impacts of COVID-19 to their employees and operations.

Business Development Bank of Canada offer loans and advice
HELICOPTER EMERGENCY MEDICAL SERVICES REPORT
.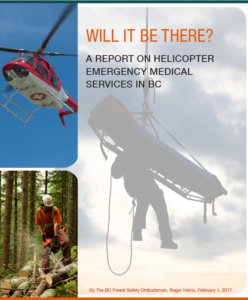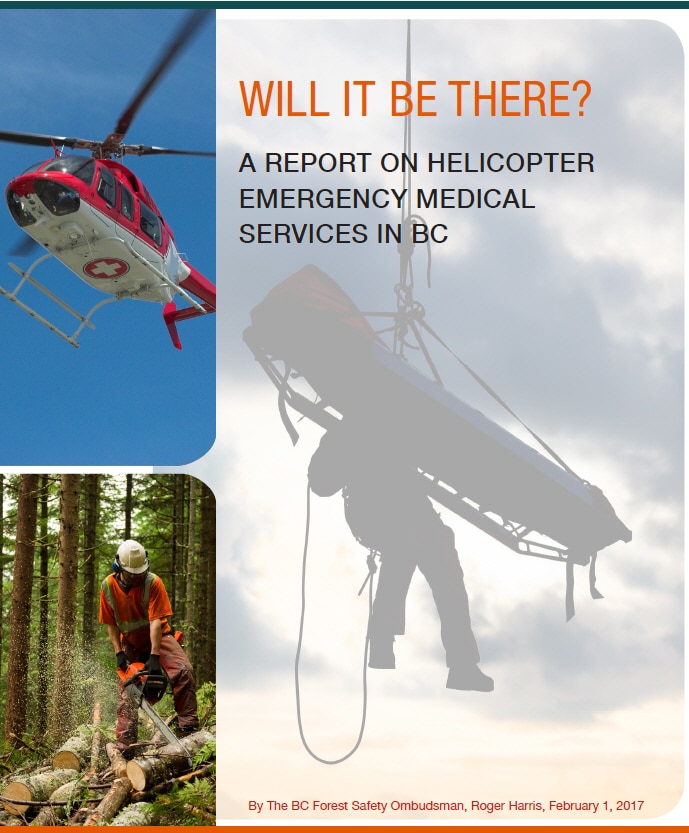 2017 – BC Forest Safety Ombudsman Report on Helicopter Emergency Medical Services
This review was undertaken as part of the mandate of the BC Forest Safety Ombudsman, specifically as part of the Office's responsibility to "identify and make recommendations to resolve systemic problems within the forest sector".
This report initially focused on the effectiveness of the Helicopter Emergency Services (HEMS) strictly from a forest worker perspective. However, because the emergency medical transportation system is so inter-related, it was difficult to entirely separate out issues also affecting the general public. Therefore, some of the observations and recommendations contained in this report apply not only to the forestry sector but also to all residents of the province.
February 3, 2017 Vancouver – BC Forest Safety Ombudsman, Roger Harris, released a report, Will It Be There? A Report on Helicopter Emergency Medical Services in BC, about emergency medical transportation services found in rural BC and how it affects forestry workers.
According to the findings of the report "there are serious gaps in the provision of emergency medical transportation services to people living and working in rural parts of the province. This gap threatens the safety of forestry workers—as well as residents—who seemingly have little or no guarantee that they will have access to timely medical transportation in the event of an emergency."
"The vast majority of timber in BC is harvested by independent timber harvesting contractors and many of them, through necessity, work hours from a paved road, let alone a hospital, in BC's remote working forest," said David Elstone, Executive Director of the Truck Loggers Association (TLA). Poor weather, rough terrain and distance are major obstacles to transporting injured workers and they can seriously impede the outcomes of emergency response. "We have a moral obligation to ensure these men and women have timely access to emergency medical transportation services when they need it most."
"Timber harvesting contractors are the economic backbone of BC rural communities. Their workers and their families should expect the same level of medical evacuation service that those living and working in urban centres rely on," said Elstone.
"Harris has put a spotlight on an important safety issue both in the woods and in our rural communities. The report makes several useful observations and recommendations," said Elstone. "I think the approach going forward must be flexible and not attempt to solve this problem with one solution across the entire province.  I want to stress that the primary focus here needs to be on what is best for the injured worker. We need to close this gap in the safety net."
"I thank Roger Harris for filling an important role in helping to seek continuous improvements in safety for our forest industry," said Elstone. "The independence of his role as BC Forest Safety Ombudsman allows all stakeholders in the forest industry—including independent timber harvesting contractors—to have a voice in industry safety."
TLA FUNDING FOR LEVEL THREE FIRST AID TRAINING
.
This is an exciting chance for TLA member companies and their employees to increase the number of Level Three First Aid attendants in the BC forest industry and be financially supported by the TLA as they do it.
IMPORTANT NOTE: The reimbursement of the OFA3 registration fee will be made to whoever paid for the course – employer or employee. However, the $1,000 of additional financial support will ONLY be paid to the employee, NOT the employer. 
The forest industry needs more Level Three First Aid attendants and the TLA and our members are part of the solution with this program!
Application Criteria:
Be employed by a TLA member company in direct harvesting in BC.
Have a valid BC driver's licence.
Complete and submit the application form above.
Provide a letter of employment confirmation from your employer.
Then submit a OFA3 pre-course registration in a community near your home. Upon approval, the applicant shall fund their own course.
One applicant per company.
Submission Information:
Applications must be submitted via email to the TLA here
The TLA Board has authorized funding through the TLA Forestry Education Fund.
Applications will be vetted on a first come, first served basis.
Application vetting will be done by Education Committee Chair, Dave McNaught, and TLA Executive Director, Bob Brash.
Applicants will be contacted and advised if approved, prior to taking the course.
THANK YOU FIRE FIGHTERS!
Thank you to all the forest workers who have taken their equipment and left their homes and families to help fight the forest fires in BC.
HOW CAN I STAY INFORMED?
For BC Wildfire Service contacts, click here
For the latest information on current wildfires, road closings and air quality advisories, visit B.C. Wildfire Service and Emergency Info BC. Also follow the hashtag #BCWildfire and these Twitter handles: @EmergencyInfoBC and @PreparedBC.

Information about the location of hospital patients relocated due to fires is available at 1-877-442-2001.

Evacuees can register with Red Cross by calling 1-800-863-6582.

Individuals who have been displaced can go to any pharmacy in BC for refill or replacement prescriptions, according to a B.C. Pharmacare Policy.
HOW CAN I HELP THE PEOPLE AFFECTED?
WORKSAFEBC HIGH RISK STRATEGY
.

  WorkSafeBC'S High Risk Strategies identify and target industries and employers with a high risk of serious workplace injury and a significant contribution to the serious injury rate. Based on the incidence of serious injuries and work-related deaths, the High Risk Strategies include four industry sectors: construction, forestry, health care, and manufacturing.
Collectively, the High Risk Strategies are designed to reduce the serious injury rate through implementation of risk-reduction tactics directed towards high-risk work activities. The primary role of the High Risk Strategies is to identify categories of serious injuries and to develop planned approaches to effect change, thereby reducing the risk of serious injuries. Each strategy focuses prevention initiatives on identified areas of high risk in order to apply resources and effort where they will be most effective.
Manual tree falling

Log transportation

Cable yarding

Mechanized harvesting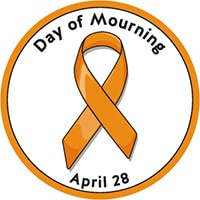 The Day of Mourning is a day intended to recognize those who lost their lives as a result of a work-related incident or occupational diseases.
In 2016 there were 144 work related fatalities in BC: 10 were directly related to forestry operations and 2 were related to forest products manufacturing. This year ceremonies will be held April 28th to commemorate workers.
Day of Mourning ceremonies have been held across the country ever since the Canadian Labour Congress initiated a national Day of Mourning ceremony on April 28, 1984 and is now recognized annually around the world in more than 100 countries.
April 28 was chosen because it was on this date in 1914 that the first Workers' Compensation Act was brought into effect in Canada.