The Truck Loggers Association is an influential voice in the forest industry on behalf of its 500 member companies across BC. Celebrating 75 years of advocacy, the TLA was formed to give independent loggers a collective voice in the changes taking place in society and the forest industry, as well as to share information about newly developing logging machines, methods, and technology. The TLA now represents independent timber harvesting contractors, phase contractors, market loggers, independent sawmills, industry suppliers and forest resource dependent communities.
Representing our members in the development of innovative and progressive forest policy and practises

Fostering successful relationships with the forest industry, local communities and all levels of government

Building strong and mutually beneficial relationships with First Nations

Nurturing effective communication with our members, industry, government, First Nations and local communities

Maintaining a dynamic organization that addresses the evolving needs of its members
The TLA believes that a strong and sustainable working forest will generate long-term prosperity for the people of British Columbia, and that the people who work in our forests must share in this prosperity.
The TLA's vision is to be a strong and unifying voice for British Columbia's forest community.
TLA AT A GLANCE explains what the TLA has recently achieved for its members .
TRUCK LOGGER BC MAGAZINE
.
Truck LoggerBC  is distributed quarterly to over 10,000 readers who rely on the forest industry across British Columbia for their livelihoods. It is the preeminent source for timber harvesting and forestry perspectives, information & news.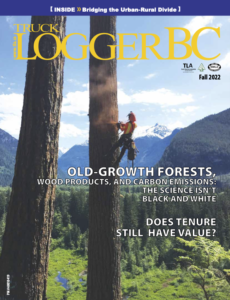 Yes I'd like a free subscription to the TruckLogger BC!

Truck Logger BC is published quarterly by the Truck Loggers Association in partnership with the Interior Logging Association and North West Loggers Association.
In addition to reaching logging associations' industrial and associate members, MLAs, key government officials and industry stakeholders, the magazine also reaches all First Nations and civic community leaders.
Editorial content seeks to reflect the objectives of the logging associations and to provide readers with current information on BC's forest industry, one that boasts the greenest workforce in the province.
The Truck Loggers Association is the official voice of independent forest contractors located throughout BC Follow the TLA on social media to stay up to date with all the latest #truckloggers & #bcforestry happenings. We'd love to connect with you on Facebook, Twitter, LinkedIn, & Instagram.