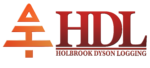 Website Holbrook Dyson Logging
HDL is an Award-Winning Logging Company on Vancouver Island, BC.
Join our crew as an off-highway log truck driver at our Woss Northern Vancouver Island operations!
We provide:
Competitive wages.
Union rates apply.
Medical, dental, and vision care benefits.
Life insurance.
Retirement planning.
Training and development opportunities.
What do you need to apply?
Must have Class 1 Valid BC Driver's License and Clean BC Driver's Abstract Class 1.
Valid Off-Highway (industrial) air brake endorsements are required.
Previous experience with West Coast hauling is required.
Experience with heavy-duty mechanical repairs is an asset.
Experience with basic machine service, refueling, diagnostics, and minor repairs.
Occupational First Aid is an asset